Treva Brandon Scharf is an ICF-certified life/dating/relationship coach, former fitness professional, midlife marriage first-timer, and author. As a lifelong athlete with a lifetime of singles experience, Treva helps people achieve their personal best in life and love.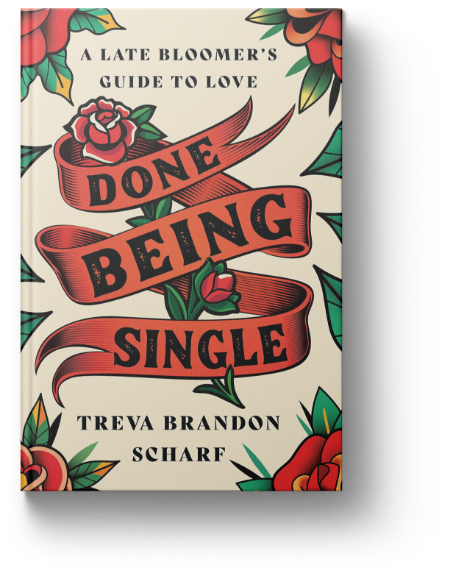 Treva's debut book is part self-help/dating advice, part-memoir, and 100% delightful. If you can stop laughing long enough, you'll realize you've just met a one-of-a-kind force of nature who has managed to acquire an invaluable store of knowledge on life, love, and personal growth. Done Being Single: A Late Bloomer's Guide to Love is a universal source of inspiration and practical advice.

It doesn't matter if you're a late bloomer or early blossomer; male or female; single or partnered; millennial or midlifer. It doesn't matter if you're divorced, widowed, new on the market, stuck in dating hell, dreaming of getting married, or just dreaming of getting laid, there's something for everyone.
John Gray
Best-selling author of Men Are from Mars, Women Are from Venus
Treva shares her journey of conquering single- hood, rejection, menopause, and aging. You will laugh, cry, and get hot flashes all the way through this book!
Arielle Ford
Author of The Soulmate Secret
This is a must-read primer for anyone at any age looking to sharpen their singles survival skills and up their dating game. It's like a handbook and a great memoir all in one.
Suneel Gupta
Best-selling author of Backable
Business acumen and dating expertise make strange bedfellows, but Treva brings them together in a fresh and insightful way.