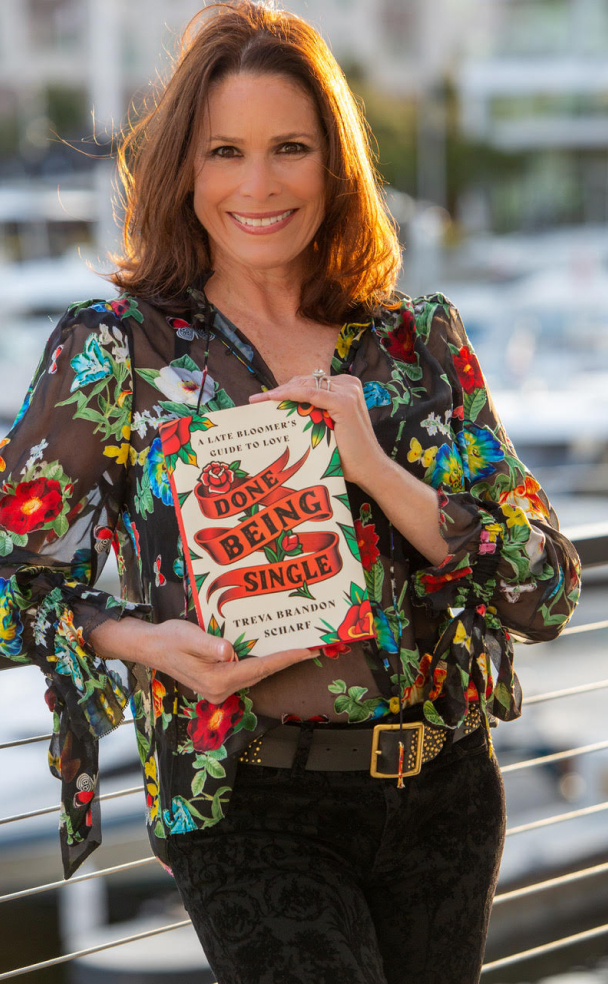 In sharing her life experiences openly and boldly, Treva Brandon Scharf's book, Done Being Single: A Late Bloomer's Guide to Love, is a how-to on surviving singlehood with inspirational memoir material woven in.
Done Being Single: A Late Bloomer's Guide to Love is based on Treva's popular blog, "The Late Blooming Bride," which established her as an authority on midlife love. As a marriage first-timer at 51, Treva shares her journey with never-before-told-stories and true confessions from her swinging single days to her life as a midlife wife. From trying to get knocked up on her own, to going into menopause on her honeymoon, Treva tells all.
Treva reveals her story like a true memoirist, dispenses advice like a Dear Abby, imparts wisdom like a female Yoda, administers tough love like a drill sergeant, and shares her secrets like a best friend. As a longtime fitness trainer and current life coach, Treva lives what she writes.
In Done Being Single, you'll learn about Attachment Theory, The 5 Love Languages, Upper Limit Problems, Adjustment Shock, Imposter Syndrome, and Greek Stoic philosophy. Treva calls out modern feminism and takes on the patriarchy in equal measure. Her research proves that dating is scientific and personal growth is sexy.
More than just a tell-all, Done Being Single: A Late Bloomer's Guide to Love is a handbook for singles, a love letter to late bloomers, a morale boost for midlifers, and an operating manual for anyone looking to achieve their personal best in life and love. Treva's test-driven tips are designed to empower, educate, and entertain, all at the same time.
Many brilliant minds are quoted in Done Being Single, including John Gray, Arielle Ford, René Brown, Malcolm Gladwell, and others. Treva will be the first one to tell you it took a village to get her down the aisle, and it took a village to write this book.
There's something for everyone in Treva's self-help memoir. Whether you're trying to conquer singledom or survive break-up hell; get married or get laid; find love or find yourself, Done Being Single: A Late Bloomer's Guide to Love will give you exactly what you need for your journey: hope, inspiration, and practical advice on how not to fuck it all up.
Action Advice For When You're "Done with Dating"
Although I did the marriage/kids thing, I've been divorced for over 13 years and first met Treva about a decade ago when I was writing for HuffPo Divorce. She's a force, funny, no-holds-barred, motivating, and that comes through in her first book. Reading her personal story provides context, and she is open and transparent about how her role within her parents' relationship impacted her long dating history before she met her match. Treva ends each chapter with actionable tips, and her career as a fitness trainer turned life/dating coach really shines through. I highly recommend Done Being Single for anyone who deletes dating apps, the regular, and those who still believe in the possibility.
BEC
Fun, entertaining... and inspiring!
When someone takes the time to look back at their life, laugh at the mishaps and learn from their mistakes, it's very brave. Treva does this and also describes the beautiful and strange world of growing up in the '60s and 70's in Beverly Hills. We all have to overcome the patterns we formed in childhood, which often don't serve us. Treva worked hard to make positive changes in her life- and found the happily ever after because of her commitment to learning and doing things differently. I'm inspired!!
holleygolitely
Irreverent yet moving and inspirational.
Part memoir, part advice. The author is an old-school "guys' girl" using a lot of authentic-sounding sports betting metaphors and is very street smart. But her story is always heartfelt. I teared up reading about her wedding and again at the end, reading about challenges during COVID. I've read a lot of these dating books and this one had some fresh ideas and some quotes that are bulletin board ready.
Rachel
Treva is the real deal!
Her advice, told from her personal experiences, is what every single person needs to hear. Worth reading twice!
Songlines
Excellent! Great advice and pleasurable reading as well
This was a terrific self-help book and a pretty good memoir. The author dates men for decades but doesn't get married until she's well into the mid-life years.. If you find yourself single at mid to late life - for whatever reason - this is the book for you.
As a widow of two years, I needed this book. After being out of the dating game for many, many years, this book told me exactly what I needed to hear. I devoured this book in about three sittings, and it made me feel much, much better about not yet finding a husband yet. The author helps you focus on healing yourself and becoming your best self before you get yourself hitched. She also counsels women to let men do the pursuing. This was liberating advice.
As a memoir, I could have done without the author's most recent experiences. These last few years have been depressing for everyone, and I think people want to move on. I would have ended the book at her marriage, and I pretty much tuned out after that point. However, this was a very helpful book, and I"m really glad I got to read it.
CindyC